Connecticut Officials Ask Obama for Tornado Damage Aid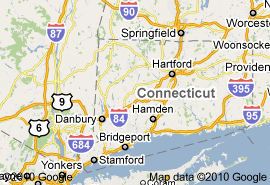 [Fri, September 24, 2010] I've travelled to Connecticut many times since a tornado hit the city of Bridgeport. My firm - Zevuloni & Associates, Public Adjusters has been retained to represent several policy holders whose residential and commercial properties have been damaged by the tornado.
The June 24th tornado has caused widespread damage in Connecticut's largest city of Bridgeport. Mayor Bill Finch has declared a state of emergency while the Bridgeport Police Department confirmed that the storm caused significant destruction to the area.
Officials of the National Weather Service informed the public that the storm produced a 100-yard-wide tornado with winds of at least 100 mph that traveled less than a quarter-mile.
According to reports by Associated Press, "hundreds of bricks shook loose from buildings, trees split in half and crushed cars and a billboard hung precariously several stories up over Main Street. Nine buildings were partially or fully collapsed, including at least three that were brought to their foundations".
This week it's been reported by main stream media that Connecticut's congressional delegation is asking President Obama to reconsider the denial of federal aid for tornado-related damage in Fairfield County.
The delegation wrote to Obama on Tuesday saying the Federal Emergency Management Agency's rejection of the aid will deprive property owners of money they need to fix the damage and rebuild their lives.
Officials say the EF-1 tornado that hit Bridgeport June 24 caused $3 million in property damage, as well as significant damage in surrounding towns.
Sens. Chris Dodd and Joe Lieberman and Reps. John Larson, Joe Courtney, Rosa DeLauro, Jim Himes and Chris Murphy say most of the people affected are low-income and only 17 percent had insurance covering the damage.
Zevuloni & Associates, Public Adjusters are licensed in the state of Connecticut. If your business sustained property damage caused by the June 24th tornado, please contact me for an immediate assessment.
Fri, September 24, 2010 | link
Public Adjuster Helps Insured Get A Higher Settlement Yet Again!
[Fri, September 17, 2010] I often hear policy holders complain about their insurance companies. Sometimes property owners are dissatisfied with the slow processing of their claims and the amount of paperwork it involves. Frequently, the disappointment lies with an unfair amount with which the insurance company settles the claim. In many cases, the settlement amount is inadequate to cover the actual costs of repair, restoration, loss of income or business interruption following a disaster and damage to physical property.
The National Association of Public Insurance Adjusters (NAPIA) distinguishes Public Adjusters as experts on property loss adjustment. Public Adjusters are retained by policy holders in order to provide assistance in the preparation, filing and adjustment of insurance claims.
Please remember that the Staff Adjuster dispatched to your property by your insurance company is under the payroll of the insurance company so you can expect that his/her evaluation and decision will favor the insurer. On the other hand, you can be assured that a Public Adjuster will be looking out for your interest.
I can attest to the numerous times I've obtained higher, yet fair settlements for my clients and recovered money that was originally denied by the insurance companies. A recently published article about yet another successful outcome from hiring a Public Adjuster has been posted on WDSU.com.
The article is about a property owner unhappy with the less than $30,000 payout his insurance company offered after his three rental units were damaged, so he contacted a Public Insurance Adjuster. "With a Public Adjuster's help, instead of getting $30,000 from his insurance company, Quintanila got more than $53,000, plus $1,500 in lost rent" reports WDSU.com.
Just as you would hire an attorney to litigate a case and defend your rights, it is important that you retain the services of a licensed Public Adjuster in your insurance claim process. A professional who will act in your best interests and recover a maximum settlement allowable by law and your insurance policy.
Please don't hesitate to contact me with any questions you may have. I welcome an opportunity for a free of charge consultation with you about your loss or insurance policy.
Fri, September 17, 2010 | link
To all friends, family, colleagues and clients celebrating Rosh Hashanah - Shana Tova!

[Wed, September 8, 2010] As Jews in America and around the world celebrate the first of the High Holy Days I want to extend my warmest wishes for the New Year.
Rosh Hashanah is a time of reflection and a time to look forward to a future of peace and security for all people. May you be inscribed for a good and peaceful year!
On behalf of myself, and the entire staff at Zevuloni & Associates, Public Adjusters, I wish you a Shana Tova Umetukah, Happy, Sweet, and Healthy New Year!
Wed, September 8, 2010 | link