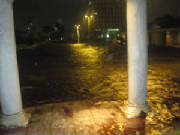 Hallandale, Fla. (MyChabad.org) A surprise flood that targeted Hallandale Beach Thursday night and early Friday morning has heavily damaged the Chabad Preschool and the main offices of Chabad of South Broward Headquarters. The flood that came without any warning from meteorologists, primarily caused damage to a relatively small geographic area, specifically Hallandale Beach and the coastal cities nearby.
The hardest hit area of Hallandale Beach was Hallandale Beach Boulevard and 14th Avenue, the intersection where the Chabad Center is located. A Chanukah party Thursday night arranged by the students of the Chaya Aydel Seminary for women and girls in the community was scheduled the exact time that the heavy rain started. Despite the heavy downpour, thirty women and girls attended the party, with about ten leaving the Chabad Center an hour into the storm.
At 8PM, Commander Michael Calderin from the Browared County Sheriff's office reached Rabbi Raphael Tennenhaus on his cellphone, telling him that the city of Hallandale Beach is under a flood warning, and they are treating the storm as they would treat a hurricane. Rabbi Tennenhaus instructed everyone remaining in the Shul to stay put, and not to walk back to the dormitories, for fear of downed power lines.
The storm continued unabated, and by 10PM water entered the Shul from the parking lot, gradually reaching 4-5 inches.20 people all told were stranded for six hours in the Chabad Center, mainly Seminary girls, Rabbi Tennenhaus, and three women who couldn't leave the Chanukah party. One of the stranded women was an eighty two year old Holocaust survivor with a heart condition.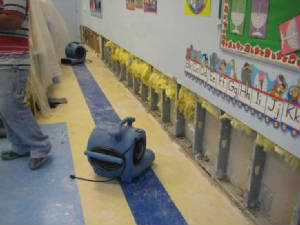 At 1:30AM, Commander Michael Calderin came with a fifteen passenger Sheriff's van, but was unable to enter the Chabad parking lot which was flooded with two feet of water. In two shifts, those stranded at the Chabad Center, including the 82 year old Holocaust Survivor with a heart condition, walked through the water that reached their thighs, till the other side of Hallandale Beach Blvd, where they were rescued and eventually brought home by Commander Calderin.
Menorahs were lit at 2AM early Friday morning by all those safely evacuated from the Chabad Center.
Early Friday morning, when the first Congregant entered the Synagogue at 5:45AM, he broke down in tears when he saw the devastation and destruction. Miraculously, both morning services went on as scheduled despite the mess and chaos. Professional cleaning crews prepared the Synagogue for the Sabbath, with some one hundred dry air fans working round the clock to help minimize the damage to the building.
Although too early to assess the full extent of the damage, Rabbi Moshe Schwartz, Chabad's administrator, has been told by Joseph Zevuloni of Zevuloni & Associates, Public Adjusters, that the damages are in excess of two hundred thousand dollars. "The Preschool and Offices have to be totally rebuilt, it will take several weeks to know how extensive the damages are to the Synagogues and Mikvahs."
In the meantime, an emergency fund has been set up to help Chabad run their daily activities and to relocate to a different location where they can run their schools and programs without any interruption.
https://www.mychabad.org/templates/preschool/article.asp?aid=1074456&jewish=Flood-in-Chai-Tots-Preschool.htm&lang=en&site=chaitotsflorida.com