How Can I help You? Have A Question, Just Ask!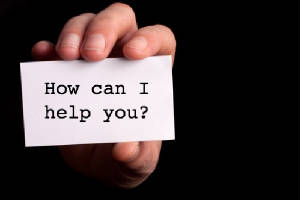 [Mon, June 11, 2012] Over the years I've gotten a firsthand look at all the possible things that can go wrong at homes, business offices, hotels, warehouses, boat marinas - from catastrophic events like major storms to more common problems, like kitchen fires, roof leaks, burglaries and plumbing leaks.
Since 2005 I've been working with property owners and their insurance companies to ensure that claims get fairly assessed and are justly paid so that policyholders can rebuild and move on. I work on behalf of policyholders to help people get all that they're entitled to from insurance claims.
Licensed by the State Dept. of Insurance, Public Adjusters evaluate damage and rebuilding costs, track the flow of insurance payments and amounts due, and work with home insurance companies to expedite their clients' insurance claims. It's better to hire a public adjuster early in the process in order to streamline your claim, since it may be more difficult for an adjuster to come in halfway or at the end of a claim and try to work backwards to assess the situation.
Understand that your insurance company may be far more concerned with minimizing potential losses and protecting their bottom line while you simply want to restore your business or home.
Will the settlement cover your losses? Will you have to settle for substandard repairs or replacements? Will you have to do without the quality items you lost due to property damage? Does the settlement take into account all of your losses? Are you getting compensated for everything that you are entitled to?
The average homeowner rarely files an insurance claim, making it difficult to judge a good settlement from a poor one. Rather than taking your insurance company's representative's word for it, let a Public Adjuster review your situation. I can help you navigate the complexities of filing an insurance claim – and help you receive a fair and equitable insurance settlement. I can also review your policy, making it possible for you to get an objective opinion about the worthiness of the insurance settlement offer with no obligation whatsoever.
I understand the way insurance works as well as how to spot underestimations and oversights – all of which can dramatically affect your final offer. Let me put my expertise to work for you. The office of Zevuloni & Associates succeeds only when we can help our clients. Let me know how I can be of help. Have a question, just ask me!
Mon, June 11, 2012 | link
Your Homeowners Insurance Policy: Are You Prepared For The 2012 Hurricane Season?
[Mon, June 04, 2012] U.S. Department of Homeland Security Secretary Janet Napolitano wants to make sure Americans are prepared for the start of the 2012 Atlantic hurricane season.
The season officially began June 1st, and Napolitano will join Federal Emergency Management Agency head Craig Fugate, as well as Florida Gov. Rick Scott to urge those likely to be affected by storms to prepare beforehand. Already two named tropical storms have swept through the Southeast and caused windstorm and flood damage. As local county emergency personnel prepare for the season ahead, you should be prepared at home as well.
Two keys to weather safety are to prepare for the risks and to act on those preparations when alerted by emergency officials. With the threat of a hurricane or major storm never far from people's minds, insurance is a big deal in the Sunshine State.
Because of its geography, Florida is considered the most hurricane-prone state in the nation. One study says 8 of the 10 most expensive hurricanes ever to make landfall in the United States effected Florida the hardest. Today, I'd like to explore how you can get prepared in terms of insurance. I suggest that you:
Thoroughly review your property insurance policy. If anything is unclear or confusing, speak with your insurance agent or a licensed Public Adjuster and get answers in a non-insurance legalese.
Take a complete inventory of your possessions. Keep one copy in your home and the other in another location. Take photos and keep receipts. Photo documentation will help with the claims process and can assist your Public Adjuster in the investigation.
Make sure that you are insured 100 percent in replacement value. Keep in mind that with the unstable real estate sector, market value has dropped, but replacement value still remains fairly steady. Get a good idea of what your average replacement value is per square foot.
Know what your deductible or out-of-pocket expenses are if your property is damaged. Many insurance companies assess a deductible that is a percentage of the policy limit, such as 2 percent, 3 percent or 5 percent.
Individuals who rent a house or apartment may want to look into purchasing a renters insurance policy to protect their possessions.
Make necessary repairs to your roof, windows and sliding glass doors.
Trim those overgrown, dead or weak tree branches and keep your hurricane shutters handy.
Be prepared to file an insurance claim if your property sustains damage. Keep the number of a licensed Public Adjuster handy to immediately assess the damage and guide you through the process of filling an insurance claim. Please don't hesitate to contact me with any questions, suggestions or help. Stay safe!

Mon, June 4, 2012 | link