You Have Questions, We've Got Answers!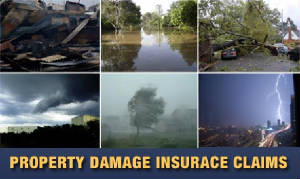 [Mon, February 28, 2011] Over and again it has come to our attention that many business and home owners do not know about Public Adjusters and the services and benefits available to them in case of a property damage.
Due to this lack of information, policy holders are not maximizing their insurance coverage and more often than not lose money after a disaster strikes. It doesn't have to be this way.
Since information and knowledge is crucial to making an informative and wise decision, let us shed some light on the issues of property damage claims and answer your questions. Please call our office at 954.742.8248 to speak with a Public Adjuster free of charge and zero obligations.
If you are a member of a condo association or a homeowners group, we can be a part of your next event or meeting to inform you on the choices you have in case of a disaster such as hurricane or windstorm, flood, fire, vandalism, burst water pipe, roof collapse or any other type of property damage. We will dispatch our experienced and licensed representative to attend your event, board meeting or neighborhood function - FREE of charge with no obligation. We will be happy to host a meeting or event at our corporate office in Sunrise FL.
Please contact us for more information. Due to the recent rise in insurance premiums and property damage claims, Zevuloni & Associates, Public Adjusters urge you to take advantage of this offer and the much needed information for policy holders, business owners, neighborhood groups, Condo Associations and Home Owners Associations.
We welcome an opportunity to speak at your next event, provide necessary information and tools for all residential and commercial property owners and policy holders.
This is a complimentary service with no associated fees, charges or obligations.
Mon, February 28, 2011 | link
American Association of Public Insurance Adjusters (AAPIA) Champions the Consumer, Opposes Florida Senate Bill 408


[Mon, February 21, 2011] AAPIA, a national association serving public adjusters, is on record opposing Senate Bill 408, a Florida legislative bill that would significantly dilute consumer protections if passed in its current form.
AAPIA's mission is to assist the profession and its clients with understanding homeowners' insurance policies and business insurance policies. Public Adjusters serve an important service to consumers, helping them to navigate the often complex and difficult issues they face after suffering property damage.
The benefits are real and tangible.
Please click here to read a full press release issued by the American Association of Public Insurance Adjusters (AAPIA).
Please click here to read the Florida Senate Bill 408.
AAPIA urges all Floridians to pay close attention to this proposed legislation. If enacted, this Bill would limit homeowners' ability to submit claims, and be made whole for impending losses. AAPIA recommends to all Floridians, including banking institutions, property owners, title companies, condominium owners and small business owners to contact your local legislators and encourage them to reconsider key provisions in SB 408 that are detrimental to property owners statewide.
Mon, February 21, 2011 | link