Avoid Fire Hazards This Holiday Season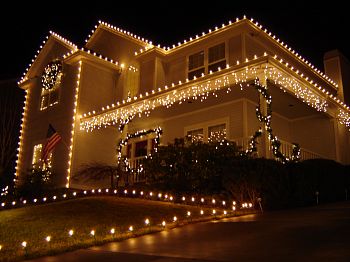 [Thu, December 22, 2011] With Hanukkah in full swing and Christmas just days away, everywhere I drive I see beautifully decorated and brightly illuminated South Florida homes and offices. Decorating trees, roofs and windows with lighted wreaths, garden fixtures, sparkling garlands, menorah candles and other light installments is lovely, however it can also be a fire hazard.
You're not worried? Well, you certainly should be. Live Christmas trees, combined with other things that come naturally with both the holiday and winter seasons – like candles, strings of light, dry air and space heaters — become a serious fire hazard that sit perched in your living rooms or offices, usually surrounded by what can amount to kindling for a spreading blaze — countless gifts wrapped in pretty paper and bows.
As unlikely as it may seem that your Christmas tree or Hanukkah menorah could just go up in flames, according to the U.S. Fire Administration website, Christmas trees account for 240 fires every year, resulting in 13 deaths and more than $16.7 million in property damage.
To help prevent holiday fires, the USFA offers these tips:
Don't place your tree close to a heat source.
Never put tree branches or needles in a fireplace or wood-burning stove.
Maintain and inspect your holiday lights each year.
Don't overload electrical outlets.
Don't leave holiday lights unattended.
Use only nonflammable decorations.
Never put wrapping paper in a fireplace.
Never put lit candles on a tree.
And of course, make sure your smoke alarms work.
For more tips and information about preventing holiday fires, visit the USFA site at www.usfa.fema.gov. Remember, it only takes one fire to ruin your holiday, so water your tree, uncrowd your outlets and test your smoke alarms — then sit back, relax and enjoy the holiday season!!!
As always, stay safe and contact me with any questions, concerns or suggestions you may have.

Thu, December 22, 2011 | link
Happy Holidays & Season's Greetings!

[Fri, December 16, 2011] I'd like to wish all my readers, clients and friends a very happy, healthy, prosperous and safe holiday season! The staff at Zevuloni & Associates are joining me with these season's greetings and sincerely thank you for entrusting Zevuloni team to assist you with your property damage claims!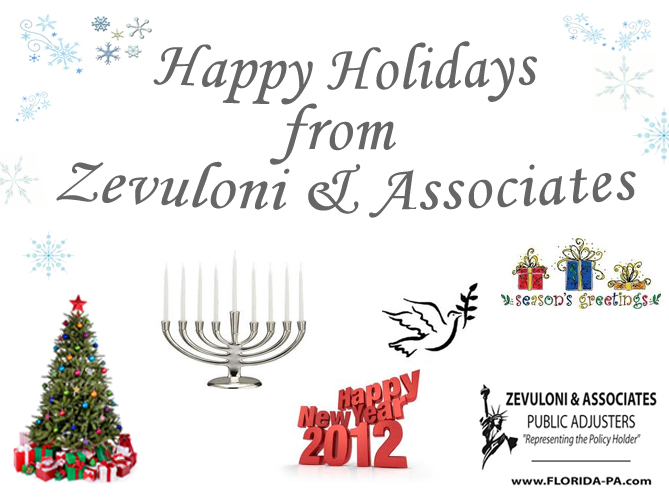 Fri, December 16, 2011 | link
Burned By Citizens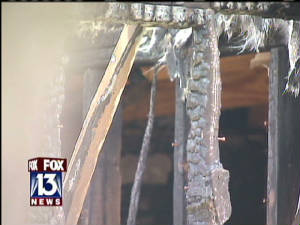 [Fri, December 2, 2011] Reported by FOX 13 investigative reporter, this story does not surprise me. Since 2005 I have known many policy holders diligently paying their insurance premiums only to be left financially stranded after disaster strikes.
I urge all property owners to watch this video and read the article written by Doug Smith of Fox 13 for an unbiased, truthful look into what happens to insured property owners after a disaster strikes.
Such events have crippled people's lives by destroying their homes and businesses. The cost of fixing or rebuilding a property hit by a natural disaster or a construction peril is high, while insurance settlements are usually low and do not fully cover all the expenses of the policyholder.
As always I welcome your questions, opinions and suggestions. Stay safe and have a great weekend.
Fri, December 2, 2011 | link