Z&A Team Assessing Structural Damage Caused By Hurricane Irene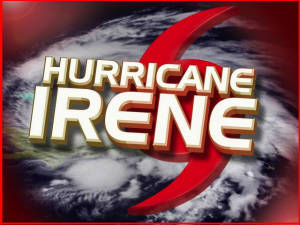 [Wed, August 31, 2011] Since Hurricane Irene struck the East Coast of the United States, many corporate and residential properties have suffered severe structural damage and business interruption losses. Since early this week I am travelling across various disaster stricken areas assisting clients with their property damage insurance claims and witnessed some of the destruction first hand across the states of Connecticut, Maryland and North Carolina.
Hurricane Irene's estimated cost to insurers fell to about $2.6 billion in the U.S. as the storm lost strength en route to New York, according to Kinetic Analysis Corp., a firm that predicts the effects of disasters.
"Property insurers led by Hartford Financial Services Group Inc. rallied in New York as loss estimates moderated. The industry may face claims of $200 million to $400 million in North Carolina and South Carolina, according to risk-modeling firm Eqecat. That's less than the $1.4 billion in insured losses North Carolina sustained from Hurricane Floyd in 1999, one of the costliest storms to hit that state, according to the Insurance Information Institute" reported Bloomberg.com.
My co-worker and I are currently in North Carolina and here are just a few images we've captured: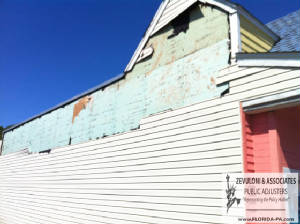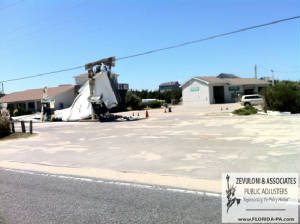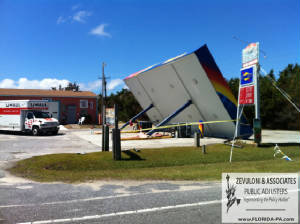 '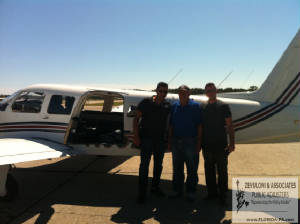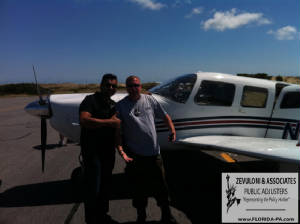 Wed, August 31, 2011 | link
Interesting Factoid About This Weekend's Weather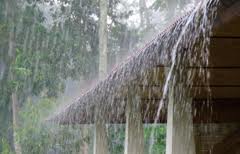 [Fri, August 26, 2011] Living in South Florida, we are well too familiar with perils of hurricanes, windstorms, tropical storms and other disasters nature tosses our way.
I am sure that many residents and business owners in the Sunshine State breathe a sigh of relief this morning knowing that Hurricane Irene's path has moved away from Florida, and the worst we may get is rain, wind and thunderstorms.
Given the rough weather of the past few days and what may be a rainy weekend, I thought you might find this interesting: "Any damage caused in Florida by the outer bands of Hurricane Irene would NOT be considered a 'hurricane' claim on Citizens policies, and would be subject to the regular low deductible instead of the very high hurricane deductible" warned Doug Levy, Licensed General Lines Agent at Premier Protection Insurance Services.
A hurricane occurrence does not begin until there is a hurricane watch or warning issued anywhere in the state of Florida – with Irene, we currently have no sutch watches nor warnings - thus no hurricane claims and no hurricane deductibles!
This mainly applies to Citizens policies, which many people in Florida have, but these provisions are likely shared by many other major insurance companies as well. Luckily, we dodged the bullet this time!
Fri, August 26, 2011 | link
Lloyd's Class Action Suit Approved by Florida Court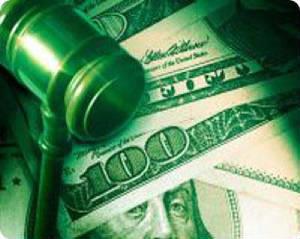 [Tue, August 23, 2011] This post has been written by Mr. Robert I. Rubin of Becker & Poliakoff.
On June 9th, the United States District Court for the Southern District of Florida granted preliminary approval of a class action settlement concerning the improper application of separate hurricane deductibles on certain Lloyd's policies.
The preliminary settlement provides for a $39,000,000 settlement fund. Eligible recipients will receive no more than 65% of the original miscalculation.
Under the proposed settlement, potential class members holding applicable Lloyd's policies should receive written notification of eligibility with a notice of claim form beginning July 15, 2011. There are two categories of potential claimants:
Category I claimants are those where Lloyd's has sufficient information to calculate the potential refund. They will be given a 9 question proof of claim form.
Category II claimants are those where Lloyds currently does not possess sufficient information to process a refund. They will be give a 15 question proof of claim form.
Potential class members have until Aug. 29, 2011 to submit a claim or opt out. Final hearing on objections to the settlement is scheduled for September 30, 2011.
We wish to acknowledge Public Adjuster Zevuloni & Associates (954) 742-8248 who brought this unpublished (in the Florida Federal Law Weekly) order to our attention.
Tue, August 23, 2011 | link
Business Interruption Coverage, Is It Necessary For My Business?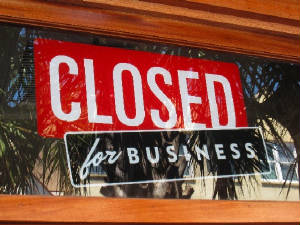 [Wed, August 17, 2011] Years of working with business owners and corporate professionals, has resulted in extensive commercial claims experience - allowing an unrivalled understanding of how losses arise, the resultant business impact and the ensuing costs that occur.
A disruption to your office activities or damage to your commercial property due to damage, vandalism, fire, flood or wall collapse can have serious short and long term implications to your business. By taking out a property damage policy you can protect your business against unforeseen circumstances which could affect the day–to–day running of your business.
Amidst broken windows, leaky roofs, destroyed office furniture and equipment, business interruption losses often can be larger than property damage losses after a natural catastrophe.
Business interruption insurance protects a business owner against losses resulting from a temporary shutdown because of various insured perils. Business Interruption insurance covers your business against a reduction in turnover or profit following a claim against your property damage policy. Business interruption can only be arranged in conjunction with a property damage policy and is also known as consequential loss or loss of profits insurance.
Since business interruption losses may be more significant and costly then property damage losses after a natural catastrophe, it is imperative to take charge of the adjusting process immediately. Many business owners and companies make the mistake of dealing with the insurance company's adjuster without having their own adjuster involved immediately following a loss. You need an advocate working on your side—a Public Adjuster who can document the business interruption losses for you, file a claim by using appropriate language, knowledge and skills in order to receive a fair, maximum allowed coverage under your policy.
Without such an advocate, companies risk filing a claim that will be denied or grossly underpaid. I saw claims after major hurricanes that were presented in ways guaranteed to be denied by an insurance company. For example, a claim filed by a business owner will state "the hurricane washed the house away" but, what really happened was that wind tore the roof off and rain poured in to cause damage—both covered perils. After this, the storm surge came in, and then washed the house away.
As with everything else in business, the devil is in the details, so call a licensed and experienced Public Adjuster as soon as possible to ensure that your property damage claim is correctly documented, presented and negotiated by a professional.
Wed, August 17, 2011 | link
Citizens - More Rate Hikes For Floridians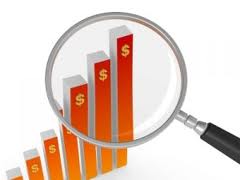 [Mon, August 08, 2011] Citizens Property Insurance proposed a statewide average rate hike of 25 percent for residential policies and 12 percent for policies that only cover windstorm.
The 25 percent increase is largely driven by massive rate hikes for sinkhole coverage, which would not affect renters and condo unit owners. A proposed increase for renters and condo unit owners' multi-peril policies are 4 percent and 9 percent, according to the Sun-Sentinel.
State law caps the annual premium increase for Citizens policyholders at 10 percent, but that excludes coverage changes, surcharges and sinkhole coverage. Citizens has proposed a statewide rate hike of 429 percent for the sinkhole portion of its rates. If approved, it could affect some 90,000 policyholders who currently carry the coverage. However, since it is not a mandatory coverage, many may just drop the coverage.
Most of Florida will not be hit as hard as the Tampa area, which could see average regional rate hikes of up to 195 percent, including the cost of sinkhole coverage, for homeowners' multi-peril policies, according to Citizens' request. The average proposed increases for parts of South Florida and Orlando area are up to 13 percent and 15 percent, respectively.
My personal take on this - this couldn't have come at a worse time for Florida residents. During Florida's hurricane season, high unemployment rates and soaring cost of living, I suspect this may be devastating to many homeowners. Unfortunately there is a property insurance crisis in Florida, and rates will most likely continue to rise. But if Citizens' untenable increases in sinkhole premiums are approved, lawmakers will have created an even bigger crisis, imposing on thousands of homeowners a far larger financial burden than any tax increase imaginable.
Mon, August 8, 2011 | link
Zevuloni & Associates On Alert And Ready If Emily Strikes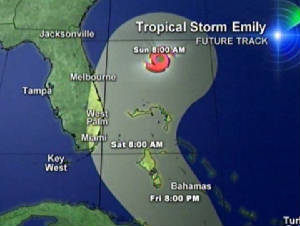 [Thu, August 04, 2011] For now, South Florida remains out of the cone for Tropical Storm Emily but forecasters say the slow-moving system should be closely monitored.
All staff at Zevuloni & Associates, Public Adjusters are closely monitoring the path of the storm and are standing by to assist property owners in case of any damage caused by Emily. Our office operators, insurance adjusters, claim specialists and damage appraisers are availble during after hours at 954.742.8248. You can likewise email me directly at joe@florida-pa.com.

Because of the uncertainty, the National Hurricane Center posted no tropical storm watches for South Florida so far, but cautioned that residents should closely watch Emily's progress.
If a more northwest motion begins on Thursday, CBS4 meteorologist Craig Setzer said Emily will likely head into the Bahamas with the worst weather passing east of South Florida. If however Emily makes further progress to the west on Thursday, then when it does turn to the northwest, its track could come closer to or over South Florida.
Bottom line, the threat of Emily to South Florida remains. Because of the uncertainty it is impossible to predict whether it will or will not come here. Because of the time it takes to make preparations for a strong tropical storm (or weak hurricane since we plan for one category higher), we have to start making preparations today and may need to continue making preparations tomorrow to be ready for its impact on Saturday.
Thu, August 4, 2011 | link